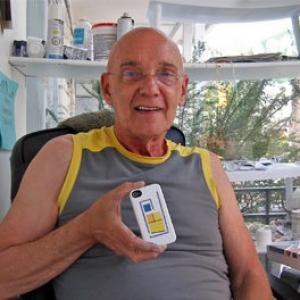 Gwynne Giles
Gwynne Giles is an emerging artist whose work is in collections in both North America and Europe. His naive, two-dimensional art is executed in primary colours. Stylistically, his paintings are measured, precise and in some cases geometric. Gwynne began painting just as he finished a successful career in hospitality. At age 60, he decided he just had to paint. What appealed to him was the simple abstract style of the 'de stijl' movement. Whilst seemingly simple this genre proved to difficult at the beginning and so his two-dimensional approach to figurative painting evolved. You can trace this journey in his ebook 'Flat Art'. His very first exhibit was at The Toronto Golf Club and the positive reviews he received encouraged him to continue. 10 years on his 'de Stijl 'works are highly popular and he has further developed a new separate style of painting - which he calls 'Cold Art'. This a story of frigid landscapes in winter that echoes snow, deep cold. All three styles are represented in his 'Partial' portfolio.
ARTIST STATEMENT
All of my art has no constructed depth. This is very deliberate as two-dimensional pieces reflect back to an earlier time. I find this enormously fulfilling and I like the details on my pieces to just float in time. I use only primary (and neutral colours) which is a reflection of my 'de stijl' roots. This palette gives a crisp simplicity to my art. The highly glossed sections of my paintings have many coats of fine varnish. This is deliberate as I want viewers to touch these areas as it creates an intimate bond with the artist.
CLIENT APPRECIATION
Two of my largest collectors both say that they like my art because it is unique. In any show that they visit 'gwynne giles' work is one of a kind and can never be confused with anyone else. I have been told that my two-dimensional pieces create a sense of peace when they look at them.
---
Describe your home in 3 words
Eclectic, Bright, Art filled
Favourite movie
Dr. Zhivago
Favourite musical artist / band right now
Mr. Beethoven and I have a long term loving relationship .
Everyone should know about
My studio is at street level on the ground floor of my home. It has a 15ft glass window and every morning I come down to paint. I just drift into a zone and lose track of time. This is my most creative period and people ask where do I get my ideas from? The fact is I have no idea! It just happens .I usually work on several pieces at once and they just kind of evolve.
During my breaks, I tend to ...
I only have one break and then I like to have a meal and look up BBC world news. It keeps me up to date.
What kind of artwork do you have in your home?
In an earlier life I was a geographer and have a collection of antique maps dating back to the 1600's. I collect friends art - John Lennard and Steve Chmilar
What do you mean, "try"?
Try-before-you-buy with a 3 month rental. 100% of your rental payments go towards the purchase (interest free). Message the artist directly, and start the conversation.
---
Art made (truly) affordable
We make it easy for you to try art with smart payment plans and try-before-you-buy models.
See How It Works
---
You're covered.
Artwork protection is included on all art rentals up to $5K. Our Customer Care team is always here to help.
Contact Us
---
Unlock Trade Access
For industries including interior design, film/TV production, & real estate staging: rent original pieces that fit with your project vision, budget and timeline.
Apply for Trade Access
---
1% from every transaction goes towards a Canadian arts nonprofit.